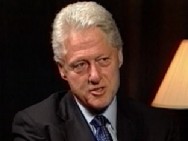 Image Source:
ABC News

We miss you Mr. President.

"It's funny, you know: I've spent most of my life being the youngest person doing whatever I was doing," Clinton said. "And one day, I woke up and I was the oldest person in the room."
Clinton has lived longer than Elvis, his musical hero, lived. So in honor of Clinton reaching the six-decade mark, ABC News presented him with some Elvis sunglasses, direct from Graceland.
"I'm going to wear these over the weekend, when I have the right togs on," he said.
He will have those togs on tonight as he kicks off the first of two months' worth of birthday parties, ending with a special concert by those other old men rock-stars, the Rolling Stones.

Check out: Clinton Global Initiative

technorati tags:Clinton, Birthday
Blogged with Flock